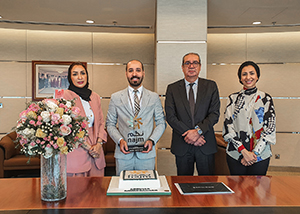 6/23/2022 3:37:27 PM -
Bahrain National Holding (BNH), the premier Bahraini insurance Group, and its subsidiaries, Bahrain National Insurance (bni) and Bahrain National Life Assurance (bnl), launch its employee's recognition program 'Najm' aimed to recognize, encourage and appreciate employees for their outstanding achievements, initiative and commitment.
'Najm' program is an employee recognition program that recognizes the achievements of the Group's employee members in areas such as outstanding and smart performance, innovation, leadership, teamwork, ambassadorship, customer service, as well as professional and academic development, and social responsibility
The winner of the employees recoginition program 'Najm' for the 1st Quarter of 2022, Mr. Abdullah Rawanbakhsh, Assistant Manager - Internal Audit Department, was chosen and awarded by the program committee for his distinctive achievement in the category of achievements outside the work environment.
Mr. Abdullah Rawanbakhsh represented the Group in 'Trade Quest' Program, a business education program organized by Bahrain Bource for high school and university students that focuses on investment trading. Mr. Abdullah Rawanbakhsh played the role of investment advisor for Al Noor International School and helped his team to reach the third place. Mr. Abdulla Rawanbakhsh and his team were awarded for their achievement by the Governor of the Central Bank of Bahrain Mr. Rasheed M Al-Maraj.
Mr. Sameer AlWazzan, The Group Chief Executive Officer of BNH, commented: "Najm Award is a celebration of employees, who have not only made outstanding business contributions to the Group but also those who embody our core values of service excellence and innovation."
"It is through the efforts, commitment, and the determination of our employees that the Group continues to achieve success and we will continue supporting and encouraging them to excel at work and beyond the work environment." he added.
Maryam Al-Ahmad, Senior Human Capital Manager at BNH, said, "At BNH, we consider human capital a true investment given its key role in developing our work and strengthening our position. 'Najm' program corresponds with our goals to stimulate the spirit of achievement, leadership, and innovation among our team, encouraging them to adopt unprecedented ideas to reach high standards of performance and collective success consistently."